<![if !vml]>

<![endif]>Hon'ble Minister of External Affairs,  Foreign Secretary, Ambassador of Bhutan, Dean of the Foreign Service Institute,  Members of Ambassador Sanyal's family, Fellow Members of the Association of Indian Diplomats, Graduating Officer-trainees of the IFS 2018 batch,  faculty members of the FSI, distinguished guests, Ladies and Gentlemen.
Today is an exciting moment for the 2018 batch. It marks the successful completion of their training. Officer trainees are embarking on their careers, full of zeal and enthusiasm to serve our beloved Motherland.
In 1976, when we joined Service, we had no Foreign Service Institute. The FSI under EAM's guidance and a charismatic Dean and devoted faculty members is now acknowledged globally as a premier training institute. All of you have benefitted from this training.
Gandhiji had said:
"That service is the noblest, which is rendered for its own sake."
Ultimately, your task is to serve India's national interests, often in the face of adversity and physical challenges and to keep India's flag flying high under all circumstances. That is what we endeavoured to do.  That is what we expect from all of you!
The Association* of Indian Diplomats is a gathering of former Ambassadors and High Commissioners of India and those who have held senior posts in international organizations at the level of Under Secretary General and above. Formed in 1980, we have 269 regular members and 33 guest members. Today we have established AID as an important think-tank with an enormous reservoir of experience and knowledge which is available when required. AID has participated in many task forces, contributing analyses and policy options for the Government. Members of the Association have given great support to the 'Distinguished Lecture Series' of the Ministry, covering outlying institutions and Universities in India. In doing so, it has provided a much required link between practitioners of foreign policy and academia and the general public.
Our main outreach Public Diplomacy activity, supported by the Ministry, is our flag ship publication, The Indian Foreign Affairs Journal, now in its 14th year, which has become an invaluable addition to the reservoir of authentic international relations publications on India. The oral history section is an unique compilation of diplomatic narratives by iconic figures in our Foreign Service who left their mark and made India proud in the many challenges  faced during India's journey to great power status.
We have also supported the FSI training of officer trainees. It is a privilege to render some support to our beloved Service which continues to be such an important part of our lives today.
<![if !vml]>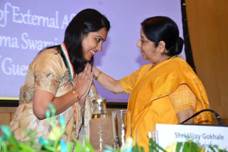 <![endif]>Today we would be awarding two prizes, one augmenting the Medal to be presented by the Hon'ble Minister for the Best Officer Trainee, and also a Gold / Silver Medal for the Best Dissertation. Both these awards have been made possible by a corpus established by the family of the late Ambassador Bimal Sanyal and which is administered by our Association.
I am privileged to be associated since by childhood with Ambassador Sanyal. His only child Usha Sanyal is a very close friend. Uncle Bimal, as we called him or   Ambassador Bimal Sanyal was a visionary and a pioneer who saw economic diplomacy as a growing aspect of and a future tool in conduct of foreign relations – before it became a fashionable term. He established the separate economic wing in the Ministry that has today blossomed into an important part of Ministry's functioning.
Bimal Uncle served with distinction from 1948 to 1976, having earlier served in the Royal Navy. Fondly remembered by all his colleagues till today, he was above all a true patriot who passionately believed that our diplomats must also focus on economic, commercial and trade diplomacy. He was the first Secretary in the Ministry of External Affairs exclusively entrusted with 'Economic Relations' as a tool of diplomacy – that has since become a 'mantra' for modern day diplomacy. After superannuation, he served as the first Secretary General of the Association of Iron Ore Exporting Countries, based in Geneva.
In his memory, out of this corpus, initially medals used to be awarded to the best essay in a contest open to all IFS officers. Later – and till 2010 – we were awarding a gold medal to the best officer-trainee and a silver medal to the best dissertation amongst the graduating IFS batch. Starting 2011, as the medal for the best officer-trainee is being awarded by the MEA, we decided to augment this award with an 'Ambassador Sanyal Memorial Prize' and 'Ambassador Sanyal Memorial Medal'.
<![if !vml]>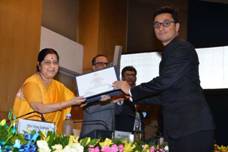 <![endif]>We are delighted that Ambassador Sanyal Memorial Prize for best officer trainee is awarded to Ms. Risha Oberoi and Ambassador Sanyal Memorial Medal for best dissertation awarded to Shri Navodit Verma. 
Let me conclude by underlining that our culture and civilisation is our gift to the world. It is a composite culture spread worldwide. It reflects the evolution of our own history, the manner in which India seamlessly absorbed other cultures but never lost its own. William Dalrymple had pertinently noted in this context:
"India has always had a strange way with her conquerors. In defeat, she beckons them in, then slowly seduces, assimilates and transforms them".
 Dalrymple was only echoing Gurudev Rabindranath Tagore.  I had visited Vishwa Bharati University, Shantiniketan under our Distinguished Lecture Series and noted with reverence Gurudev's inspirational message which still resonates till today. 
Gurudev had said:
"India represents the wealth of mind which is for all.
We acknowledge India's obligation to offer to others the hospitality of her best culture
And India's right to accept from others their best."
Go and spread this message.  India demands no more and no less.
Jai Hind!
Bhaswati Mukherjee
16th May 2019
________________
* Beautiful explanation by Swami Vivekananda:
Explaining the meaning of 'Association' he said:..
"A rain drop from the sky: if it is caught by clean hands, is pure enough for drinking. If it falls in the gutter, its value drops so much that it can't be used even for washing your feet. If it falls on a hot surface, it will evaporate... If it falls on a lotus leaf, it shines like a pearl and finally, if it falls on an oyster, it becomes a pearl...The drop is the same, but its existence & worth depends on whom it is associated with."...Always be associated with people who are good at heart..You will experience your own inner transformation"...