<![if !vml]>
<![endif]>
Ever since its launch in February 2006, Indian Foreign Affairs Journal, a peer reviewed quarterly publication of the Association of Indian Diplomats has become an intellectually satisfying and analytically enriching forum for the examination of relevant but sensitive and complex issues of India's foreign policy and relations. Such examination is undertaken by experienced decision makers, serious scholars and seasoned commentators.
The Journal remains true to its credo, publishing authors of widely divergent views, and at the same time, searching for unifying themes and principles in an era where these are especially hard to find. The Journal is thus filling a long-standing gap in the availability of insightful and credible literature in the field.
Besides in-depth scholarly and policy oriented articles, each issue of the Journal presents a Debate on one of the contemporary and contentious aspects of India's foreign policy.
In addition, the Journal includes a special and unique section which brings out and preserves in  print, the hitherto unknown aspects of India's diplomatic experience and policy initiative through its Oral History narrative, in the course of tête-à-tête with senior and highly experienced policy makers who have made decisive contributions in the evolution of the policy and its challenging issues. The Journal also reviews latest books ....
Current Issue
Indian Foreign Affairs Journal
Vol. 13, No. 2  - Apr - Jun 2018
Debate
India in the Emerging Global Order: The Next Decade
Kanwal Sibal, Arvind Gupta, Sanjay Singh, Chintamani Mahapatra, B. S. Prakash, Sachin Chaturvedi
Articles
M. MATHESWARAN
Nuclear Stability in Asia and South Asia: Dynamics of Fragile Stability
OBJA BORAH HAZARIKA
Strategic and Political Trends in India and the European Union:
Confronting Common Challenges
YOGENDRA KUMAR
MILAN series of Naval Exercises - 2018 (Tentative Title)
Book Reviews
Recent Event(s)

<![if !vml]><![endif]>

27 Nov 2018: Ambassador K.S. Bajpai spoke on "Father, Son and Sikkim - Some explorations in Statecraft".

<![if !vml]><![endif]>

8 Oct 2018: Ambassador Pankaj Saran, Deputy National Security Adviser, spoke on "Current state of Indo-Russian relations"

Forthcoming Issue

Indian Foreign Affairs Journal

Vol. 13, No. 3  - Jul - Sep  2018

Debate

"India - Sri Lanka Relations"

(Tentative Subject)

Articles

TITLI BASU

The 'Asia - Africa growth corridor' (Tentative title)

V. P. HARAN

Regional Cooperation in South Asia

BOOK REVIEWS

Oral History Narratives

From the pages of the Indian Foreign Affairs Journal
<![if !vml]>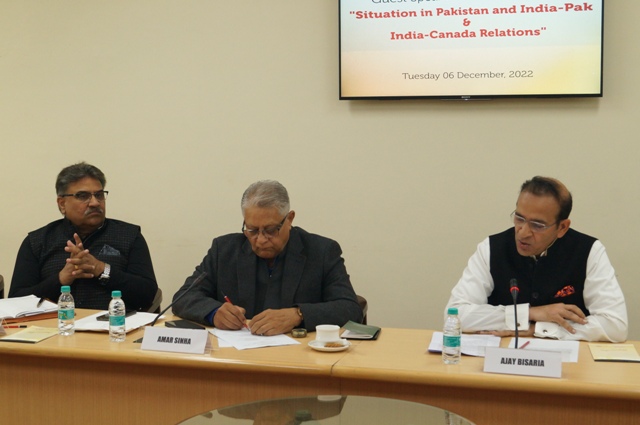 <![endif]>
 27 Sep 2018: Shri Hardeep Singh Puri, Hon'ble Minister of State (IC), Ministry of Housing & Urban Affairs, spoke on "Sovereignty and the State: Impact on the global order"
<![if !vml]>
<![endif]>
8 Aug 2018: Ambassador M.K. Rasgotra, Former Foreign Secretary,
spoke on "India's Foreign Policy - Issues and Challenges"
<![if !vml]>
<![endif]>
31 May, 2018: Presentation of the Ambassador Bimal Sanyal Memorial Medal / Prize by Smt. Sushma Swaraj, Hon'ble Minister for External Affairs.