<![if !vml]>

<![endif]>
Ever since its launch in February 2006, Indian Foreign Affairs Journal, a peer reviewed quarterly publication of the Association of Indian Diplomats has become an intellectually satisfying and analytically enriching forum for the examination of relevant but sensitive and complex issues of India's foreign policy and relations. Such examination is undertaken by experienced decision makers, serious scholars and seasoned commentators.
The Journal remains true to its credo, publishing authors of widely divergent views, and at the same time, searching for unifying themes and principles in an era where these are especially hard to find. The Journal is thus filling a long-standing gap in the availability of insightful and credible literature in the field.
Besides in-depth scholarly and policy oriented articles, each issue of the Journal presents a Debate on one of the contemporary and contentious aspects of India's foreign policy.
In addition, the Journal includes ......
Current Issue
Indian Foreign Affairs Journal
Vol. 12, No. 4  - Oct - Dec 2017
DEBATE
Situation in West Asia - Implications for India
Click Here for the Debate Concept Note
ARTICLES
ASOKE KUMAR MUKHERJEE
Role of the United Nations in the contemporary world
P. S. RAGHAVAN
The Making of India's Foreign Policy: From Non-Alignment to Multi-Alignment.
BOOK REVIEWS
<![if !vml]><![endif]>

9 Jan 2018: Ambassador Talmiz Ahmad spoke on "Geopolitics of Energy and India's Quest for Energy Security"

Forthcoming Issue

Indian Foreign Affairs Journal

Vol. 13, No. 1  - Jan - Mar 2018

DEBATE

"India-Canada Relations: Present Reality & Future Directions"

(Tentative Title)

ARTICLES

PINAK R CHAKRAVARTY

India's Changing Global Priorities and the Role Of Act East Policy

M. MATHESWARAN

Nuclear Stability in Asia and South Asia: Dynamics of Fragile Stability.

ORAL HISTORY

BOOK REVIEWS

COMPENDIUM OF CONTRIBUTIONS

Published in Volume 12, 2017
<![if !vml]>

<![endif]>
8 Dec 2017:  Dr.  Sanjaya Baru, Secretary General, FICCI spoke on "Indian Business and Diplomacy"
---
<![if !vml]>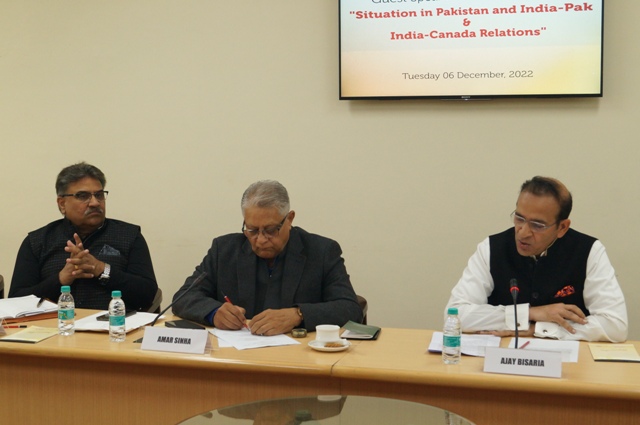 <![endif]>
10 Nov 2017:  Prof. PR Kumaraswamy, Professor, Centre for West Asian Studies, JNU,  spoke  on "India Israel Relations in the context of the Situation in West Asia"
---
<![if !vml]>
<![endif]>
4 Oct 2017: Panel discussion on 'A new paradigm in India-EU relations" by Ambassador Bhaswati Mukherjee and Ambassador Dinkar Khullar.