<![if !vml]>
<![endif]>
Ever since its launch in February 2006, Indian Foreign Affairs Journal, a peer reviewed quarterly publication of the Association of Indian Diplomats has become an intellectually satisfying and analytically enriching forum for the examination of relevant but sensitive and complex issues of India's foreign policy and relations.
Such examination is undertaken by experienced decision makers, serious scholars and seasoned commentators. The Journal remains true to its  credo, ........
Current issue
Vol. 12, No. 1  - Jan - Mar 2017
DEBATE
The Advent of the New Administration in the US: Global & Bilateral Ramifications
Arun K. Singh, Dhruva Jaishankar, Annpurna Nautiyal, Monish Tourangbam, Obja Borah Hazarika, Netajee Abhinandan
Click Here for the full text of all Debate contributions
<![if !vml]>
<![endif]>
ARTICLES
G. PARTHASARATHY:
India's Foreign Policy and Security Challenges: Past and Present
VIVEK MISHRA
India-US Maritime Cooperation: The Next Decade
M. GANAPATHI
Contours of India's Foreign Policy
BOOK REVIEWS
Published in Volume 11, 2016
Download Current/Past issues of the Journal
Forthcoming Event
2 May, 2017 at 11.30 A.M: Panel discussion on "Developments in the 'Indo - Pacific' Region and Options for India"
(Open only to members, their spouses and Guest members of the Association)
Forthcoming issue
Vol. 12, No. 2  - Apr - Jun 2017
DEBATE
'Indo - Pacific' Region and Options for India
(Tentative working Title)
Sanjay Singh, Rajiv Bhatia., Biren Nanda, Ashok Kumar Kantha
ARTICLES
NIRMALA JOSHI
India and Central Asia  (Tentative Working Title)
BHASWATI MUKHERJEE
India and the United Nations, its reforms and its role in a globalized world
BOOK REVIEWS
Oral History Narratives
From the pages of the Indian Foreign Affairs Journal
Oral History Narratives are accounts of  a tête-à-tête with senior and highly experienced policy makers who have made decisive contributions in the evolution of Indian Foreign Policy and its challenging issues.
Download 'Oral History' Narratives
Recent Events
<![if !vml]>

<![endif]>
22 Mar 2017: Annual General Meeting of the Association. The new Executive Committee for 2017 - 18 was elected at the meeting - For details Click Here <![if !vml]>
<![endif]>
<![if !vml]>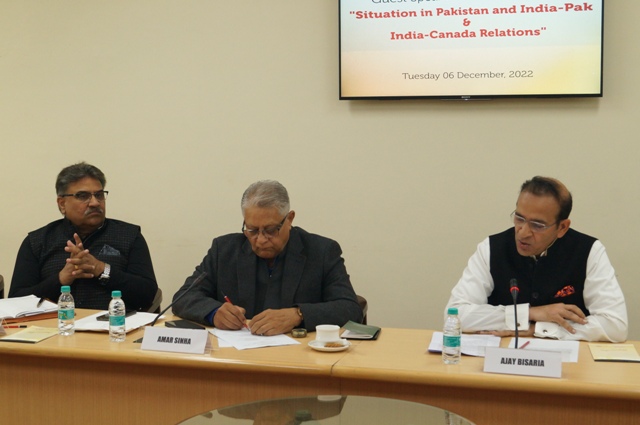 <![endif]>
10 Mar, 2017: Ambassador Neelam Dhamija Sabharwal and Professor S.D. Muni spoke on the topic, "A dialogue among civilizations – it is still not too late". Hon'ble Vice-President of India, Shri M. Hamid Ansari graced the occasion and sharede his thoughts on the subject.
<![if !vml]>
<![endif]>
31 Jan 2017: Prof. Chintamani Mahapatra, Rector, Jawaharlal Nehru University and Professor of American Studies at SIS, spoke on "Change of Guard in the US: Possible Ripples Around the World"
Photo Gallery of Past Events