<![if !vml]>

<![endif]>
Ever since its launch in February 2006, Indian Foreign Affairs Journal, a peer reviewed quarterly publication of the Association of Indian Diplomats has become an intellectually satisfying and analytically enriching forum for the examination of relevant but sensitive and complex issues of India's foreign policy and relations. Such examination is undertaken by experienced decision makers, serious scholars and seasoned commentators.
The Journal remains true to its credo, publishing authors of widely divergent views, and at the same time, searching for unifying themes and principles in an era where these are especially hard to find. The Journal is thus filling a long-standing gap in the availability of insightful and credible literature in the field.
Besides in-depth scholarly and policy oriented articles, each issue of the Journal presents a Debate on one of the contemporary and contentious aspects of India's foreign policy.
In addition, , the Journal includes ......
Current Issue
Indian Foreign Affairs Journal
Vol. 12, No. 2  - Apr - Jun 2017
------------------------------
DEBATE
Developments in the Indo-Pacific Region
and Options for India
Sanjay Singh, Rajiv Bhatia, Yogendra Kumar, Chintamani Mahapatra
Full Text of all Debate Contributions<![if !vml]>

<![endif]>
ARTICLES
BHASWATI MUKHERJEE
India and the UN: Reform and Role in a Globalised World
NIRMALA JOSHI
India's Engagement with the Central Asian Republics: An Appraisal
NALIN SURIE
China and the State of India - China Relations
BOOK REVIEWS
Full Text of all Book Reviews<![if !vml]>

<![endif]>
<![if !vml]>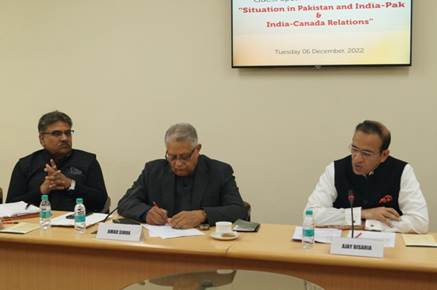 <![endif]>8 Dec 2017:  Dr.  Sanjaya Baru, Secretary General, FICCI will speak on "Indian Business and Diplomacy"
(Open to Members Only)
Forthcoming Issue
Indian Foreign Affairs Journal
Vol. 12, No. 3  - Jul - Sep 2017
-------------------
DEBATE
Situation in West Asia - Implications for India
(Tentative Working Title)
ARTICLES
(Tentative Working Titles)
DILIP SINHA
International Dispute Settlement Mechanisms and India-Pakistan Disputes  
RANJIT RAE
Situation in Nepal and its relations with India 
V. S. SESHADRI
India and the International Trade: Some Perspectives 
GULBIN SULTANA:
State of India - Sri Lanka Relations 
NEHA SINHA
India - Africa Relations and the Asia-Africa Growth Corridor
BOOK REVIEWS
Oral History Narratives
From the pages of the Indian Foreign Affairs Journal
Oral History Narratives are accounts of  a tête-à-tête with senior and highly experienced policy makers who have made decisive contributions in the evolution of Indian Foreign Policy and its challenging issues.
Download 'Oral History' Narratives
<![if !vml]>

<![endif]>10 Nov 2017:  Prof. PR Kumaraswamy, Professor, Centre for West Asian Studies, JNU,  spoke  on "India Israel Relations in the context of the Situation in West Asia"
---
<![if !vml]>
<![endif]>
4 Oct 2017: Panel discussion on 'A new paradigm in India-EU relations" by Ambassador Bhaswati Mukherjee and Ambassador Dinkar Khullar.
<![if !vml]>
<![endif]>
5 Sep 2017: Discussion on "Securing India's Borders" - by an expert panel led by Lt. Gen. P.K. Singh PVSM, AVSM (Retd.) Director, United Service Institution of India (USI).
---